Ignite hope in the fight against human trafficking
The Ignite Team is a group of people like you — people who are ready to see communities free from human trafficking and ready to send help and hope to victims and survivors through the form of a monthly recurring gift.
The recurring gifts of every Ignite Team member allow for Unbound Now to scale our work strategically in communities where our services are most needed. Ultimately, the support of Ignite Team members allows for even more survivors of human trafficking to receive the attentive care of an Unbound Now advocate, more students empowered to make safe decisions, and more professionals trained to identify and respond to trafficking when they see it in their field.
Set up a recurring gift to Unbound Now to make the sustainable work of restoration possible.
Simply select "Join the Ignite Team" after determining your gift amount.

Other ways to give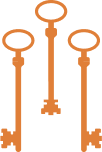 1 yes, 3 years. Untold impact
A collective of abolitionists whose partnership builds a firm foundation for Unbound Now to combat human trafficking by making a multi-year commitment

Planned Giving
While today you are able to support family, friends, loved ones, and non-profits like Unbound Now with your presence, time, and resources, through planned giving you will be able to impact generations.

Stocks & Crypto
We use a third-party service to convert gifts of cryptocurrency to a cash contribution. Your gift helps us support survivors, community outreach, and professional training, all with one goal: to end human trafficking.