What is human trafficking?
According to Polaris, "Human trafficking is the business of stealing freedom for profit."
In some cases, traffickers trick, defraud or physically force victims into selling sex. In others, victims are lied to, assaulted, threatened or manipulated into working under inhumane, illegal or otherwise unacceptable conditions."
"It is a multi-billion dollar criminal industry that denies freedom" to millions.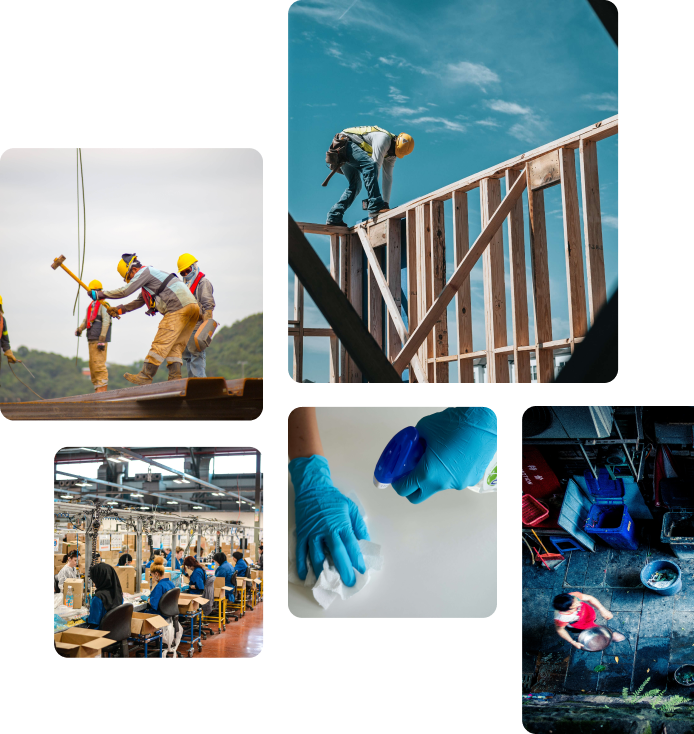 Human trafficking is one of the fastest-growing criminal industries in the world.
The International Labor Organization today estimates that millions of people are trapped in conditions of human trafficking, they refer to as "modern day slavery."
In India, entire families are enslaved in labor trafficking in brick kilns, rice mills, and garment factories working up to 20 hours a day.
In the Dominican Republic, women and children are lured into sex trafficking with promises of school or a good-paying job. In the Philippines, children as young as 2 years old are sexually abused live for anyone to watch through online sexual exploitation.
In 2021: 10,359 situations of human trafficking were reported to the U.S. National Human Trafficking Hotline, involving 16,554 individuals.
Forms of Human Trafficking
Labor Trafficking
Using force, fraud or coercion to induce another individual to work or provide service. Common types include agriculture, domestic work, restaurants, cleaning services, and carnivals.
Sex Trafficking
Using force, fraud or coercion to induce another individual to sell sex. Common types include escort services, pornography, illicit massage businesses, brothels, and outdoor solicitation.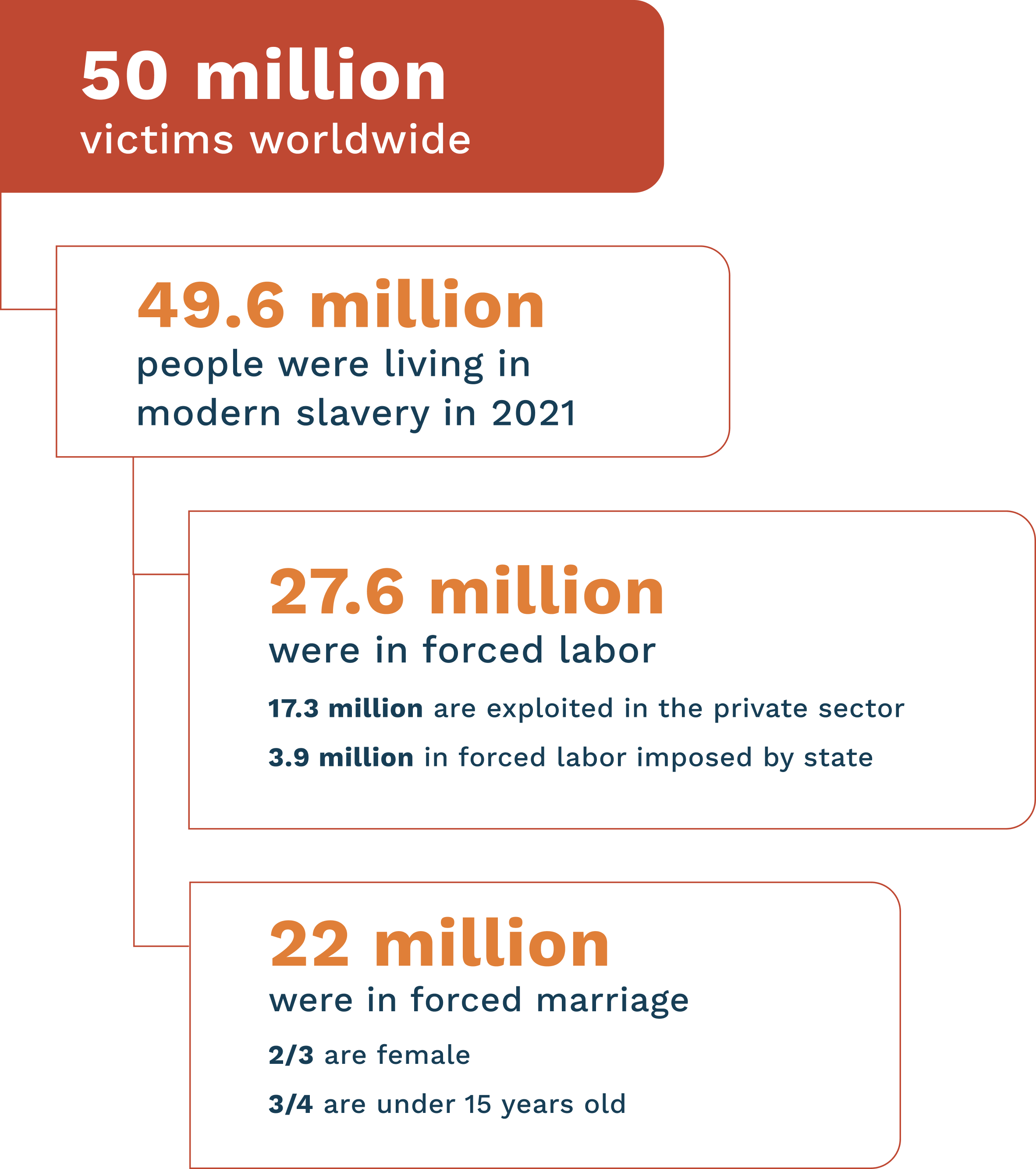 Women & children are most vulnerable
Of the 6.3 million in forced commercial sexual exploitation
women and girls account for 4.9 million.
are trapped in conditions of forced labour in other economic sectors.
3 million children are trapped in forced labor.
12% of all those in forced labor globally are children.
Human Trafficking 101
HT101 is an introduction to the basics of human trafficking, that we believe everyone needs to know. Awareness turned to action saves lives. Take your first step to being part of the end to human trafficking by viewing and sharing these free, educational resources created for you by Unbound Now.
What wil you learn?
Start your foundational understanding of human trafficking with this video, where you'll learn the basic components of what makes a situation human trafficking.
Does it happen here?
It is common to think of the crime happening only on the other side of the world when we hear "human trafficking." However, both labor and sex trafficking happen in every country, including the United States - in communities of every kind.
01
Traffickers look for vulnerabilities as they target victims. In labor trafficking, common vulnerabilities include immigration, documentation status, lack of economic opportunity, and low levels of formal education. In sex trafficking, vulnerabilities include homelessness, history of abuse, involvement in the commercial sex industry, substance abuse, and more. For child sex trafficking, vulnerabilities include low self-esteem, familial strife, running away, involvement in child welfare and more.

While these are common themes, anyone can be a victim.
02
Many victims do not realize they are victims of human trafficking. Traffickers are expert manipulators, leading victims down a path of exploitation, filled with false promises and coercion. Making it very difficult for victims to reach out for help, from fear and false beliefs.

Victims of human trafficking are in our schools, our workplaces, and our neighborhoods.
03
Trafficking is a supply and demand business. Because there is a demand for cheap labor and commercial sex, human trafficking continues to exist. With sex trafficking, engagement in the commercial sex industry, whether viewing pornography or purchasing sex, creates profit for traffickers and drives demand.
How does this happen?
Human trafficking usually happens under the radar and every instance is unique, making it difficult to capture a complete picture of the crime.

However, there are common themes in trafficking across the U.S.
You can help by being aware of human trafficking and the signs to look for.
If you ever suspect human trafficking, call the National Human Trafficking Hotline at 1-888-373-7888.
Never approach a potential trafficker or trafficking victim, for your safety and the safety of the victim.
In emergencies, call 9-1-1.
Not free to come and go

Not in possession of money, ID or documentation

Works excessively long or unusual hours

Owes a large, un-payable, growing debt

Recruited through false promises

Lacks access to basic needs or medical care

Shows signs of violence or assault

Lacks knowledge of whereabouts
Hiding bruises, scars, marks or tattoos


Frequent movement or unstable housing


Involvement in commercial sex industry


Being controlled or manipulated by another person
Hanging out with a different group, talking differently, or dressing differently


Dating or spending time with someone much older


Sudden possession of expensive items like clothes, video games, purses or shoes


Using drugs or getting involved in a gang